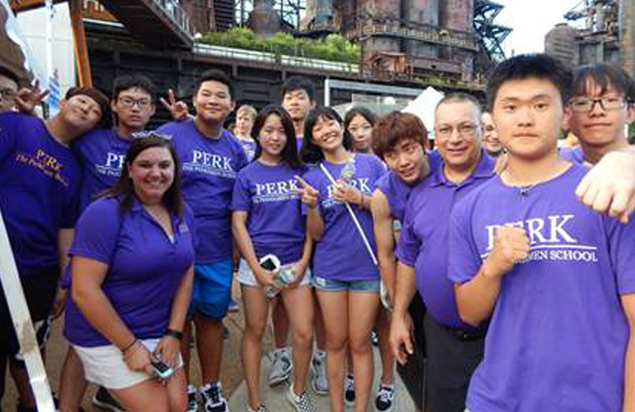 The Sounds of Learning
Music, one of life's greatest joys, can also be one of the joys of learning. That's why teachers at the Perkiomen School decided eight years ago to take their foreign students to Musikfest. It's the perfect place for them to experience a unique slice of American culture and enhance their English language skills, all while having a great time.
The annual outing to Bethlehem is part of the month-long program designed to help the students who come from more than 30 countries assimilate into life in America and life at boarding school, according to Michael Romasco, director of the English as a Second Language (ESL) Summer Program at the school in nearby Pennsburg, Pa.
"We don't just focus on the three Rs," he explains. "Each week is built around a theme, and Music Week is everyone's favorite, the students and the staff."
At Musikfest the students are encouraged to sample the festival's array of delicious foods—turkey legs, funnel cakes and ice cream have been the traditional favorites—spend some time at Handwerkplatz and listen to all types of music. There are definite assignments, however. The entire group is required to walk along the Hoover Mason Trestle at SteelStacks.
"It's a history lesson and a museum all in one," Romasco says. "The students find it fascinating, especially those from rural areas who have never seen a manufacturing facility."
In the evening, they go to see a headlining performance at the Sands Steel Stage at PNC Plaza together; this year it was country music trio Lady Antebellum. The concert is in preparation for an assignment to produce a music video using one of the artists' songs. Romasco and his team choose the songs ahead of time to make sure they contain appropriate lyrics, are about equal in length and are popular enough to be performed.
"It's fun to watch the kids at the concert when they hear 'their song,' " Romasco says. "They'll start singing along and sometimes even stand up and clap and sing. They feel a real connection to the music and each other."
Back on campus, each group forms a fictitious company to produce the video. A teacher serves as the executive director, and the students come up with fictitious budgets and themes for their works. The project culminates with a Video Music Awards night, and just like the real thing, trophies are given out.
"This works because of the people at Musikfest," Romasco says. "The box office is always very helpful, and the whole festival is extremely well organized. We brought 45 kids this year and had absolutely no problems. Even when there was a rain delay for Lady Antebellum, things ran smoothly."
He adds that the trip to Musikfest is definitely a highlight for the students. "It's all they can talk about when they come back in the fall," Romasco says. "We are so fortunate to be close to the country's premier music festival. It truly is an amazing experience."