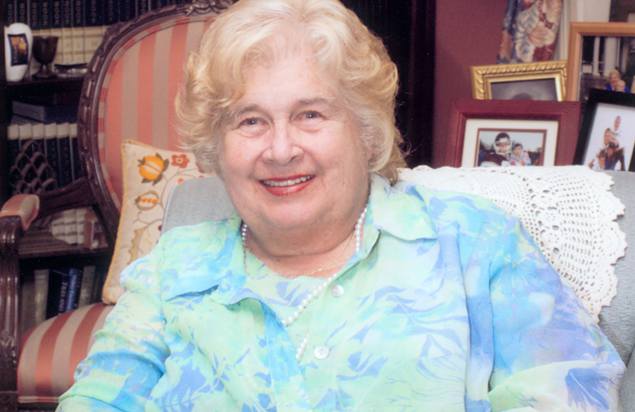 Region's Arts Community to be Celebrated Through New 'Linny Awards'
Awards, named after late Marlene 'Linny' Fowler, will be presented annually by ArtsQuest Foundation and benefit arts education & access in the Lehigh Valley
For more than a quarter-century, Marlene 'Linny' Fowler of Bethlehem worked tirelessly to elevate the Lehigh Valley's arts organizations and artists through her volunteerism and her support. Now, the region has the opportunity to celebrate this flourishing arts community and honor Fowler's memory by taking part in the Linny Awards, a new multi-discipline arts awards program focused on the greater Lehigh Valley's artists, innovators and arts leaders.
The inaugural Linny Awards presented by Cornerstone Advisors will be presented Nov. 10, 6 p.m., at the ArtsQuest Center at SteelStacks, with all proceeds from the event going to support the nonprofit ArtsQuest Foundation, founded in 2002 by Mrs. Fowler. From now through June 3, the public is invited to nominate artists, individuals and businesses at artsquestfoundation.org for consideration in eight different award categories including Visual Artist of the Year, Performing Artist of the Year, Educator of the Year, Emerging Artist of the Year and Philanthropy in the Arts. All submissions will be reviewed by the Linny Awards Selection Committee, with winners announced the week of June 20. Complete details on categories and submission guidelines are available at artsquestfoundation.org.
In addition to the honorees chosen by the selection committee, the ArtsQuest Foundation Board will present three prestigious awards that recognize distinguished individuals from the region for their longtime commitment and dedication to the arts. The recipients of these awards – the Lifetime Achievement Artist Award, Lifetime Achievement Volunteer Award and the Pinnacle of the Arts Award – will be announced later this spring.
"The arts have long been a significant contributor to the culture, economy and quality of life in the Lehigh Valley," says ArtsQuest Foundation Executive Director Jeff Parks. "The Linny Awards are designed to celebrate this culture of creativity by recognizing the artists, arts educators, businesses and philanthropists who live, work and support the arts in our region.
"One of the primary reasons the arts are thriving in our area is the support of Marlene 'Linny' Fowler. A longtime member of the ArtsQuest Foundation Board, Linny supported so many arts programs and organizations in our region over the decades. In addition to serving on the boards of arts organizations such as the Allentown Art Museum, Baum School of Art, State Theatre and ArtsQuest, she was a mentor to many artists and was actively involved in a number of arts programs benefitting our young people, so it's fitting that these awards are named in her honor."
As part of the Linny Awards, the ArtsQuest Foundation will also recognize the creativity and support of the region's business community through two special honors. The first, the Excellence in Product Design Award, will honor one Lehigh Valley-based business or corporation for the quality, innovativeness and creativity of its goods and products. The second, the Business Supporter of the Arts Award, will be presented to one small, one medium and one large-sized business (three in all) for their long-term support of the arts.
Thanks to a partnership with Penn State Lehigh Valley, the Linnys will also present a $1,500 scholarship to Penn State Lehigh Valley to one local student planning to major in Arts Administration. The award, which will be presented annually, is open to students in 11th and 12th grades.
Members of the Linny Awards Selection Committee for 2016 include MKSD Architects Associate Partner Todd Chambers, Quadrant Private Wealth Director of Business Advisory Services Dan Crowley, Broadway and television actress and director Lynnie Godfrey, Greater Lehigh Valley Chamber of Commerce Sr. Vice President of Allentown Initiatives Miriam Huertas, The Elucidator Publisher and Connexions Gallery Curator/Manager Anthony Marraccini, Musselman Advertising President Jamie Musselman, ArtsQuest Foundation Executive Director Jeff Parks, DANCENOW New York Artistic Director and Producer Robin Staff and Lehigh University Director of Arts Engagement and Community Cultural Affairs Silagh White.
Linny Award nominations may be submitted for artists, organizations and businesses in Lehigh, Northampton, Upper Bucks and Upper Montgomery counties in Pennsylvania, as well as Warren County in New Jersey. Tickets for the Linny Awards Ceremony will go on sale to the public later this spring, with all proceeds from the event going to support the ArtsQuest Foundation, established to strengthen the long-term sustainability of ArtsQuest, the nonprofit that presents Musikfest and more than 2,200 other programs, events and educational classes annually.
"ArtsQuest continues to expand access to the arts and arts programming in our region with each passing year," says ArtsQuest Foundation Board Chair Jack Yaissle. "Amazingly, nearly 70 percent of the organization's arts and cultural programs remain free for our community to attend. This annual awards ceremony not only celebrates our diverse arts community, it will also help raise much-needed revenues for our endowment funds supporting ArtsQuest, which now has an economic impact on our region of more than $117 million annually."
The inaugural Linny Award categories are:
VISUAL ARTIST OF THE YEAR
Honoring a Lehigh Valley visual artist whose work embodies excellence in its field. This category includes but is not limited to two- and three-dimensional visual arts such as painting, sculpture, digital, fiber, glass, ceramics, jewelry, metal and photography, as well as designers of fashion, musical instruments, furniture and other handcrafted works.
PERFORMING ARTIST OF THE YEAR
Recognizing a Lehigh Valley performing artist whose work symbolizes excellence in its field. This category includes but is not limited to theater, film, dance and other forms of performance art, animation, comedy and music, as well as the literary arts, playwrights and screenwriters.
EMERGING ARTIST OF THE YEAR
Celebrating an artist 30 years of age or younger who demonstrates excellence in his/her field. This award is designed to honor an up-and-coming artist or an artist who has had a breakthrough year, and through his or her work has contributed to the region's culture and community in a very positive way.
ARTS EDUCATOR OF THE YEAR
Dedicated to a Lehigh Valley-based educator, teaching artist or arts administrator who has made a profound impact on students and/or the community through his or her work in the arts. This award is open to any individual working with students in preschool, kindergarten, elementary, middle or high school.
PHILANTHROPY IN THE ARTS AWARD
Recognizing an individual, family or foundation that has made a major commitment to supporting multiple arts and cultural organizations or programs in the region, and through their work has truly enhanced access to the arts and the quality of life in our region.
EXCELLENCE IN PRODUCT DESIGN
The Lehigh Valley is home to a diverse array of businesses producing dynamic and innovative consumer, business, medical and technology-based products. The Excellence in Product Design Award annually recognizes one Lehigh Valley-based business or corporation for the quality, innovativeness and creativity of its products or goods.
BUSINESS SUPPORTER OF THE ARTS
Presented annually to three area businesses for their dedication and support of arts and culture in the region for five or more years. The award is given to businesses that have a presence in or do the majority of their business in the region.
Eligibility categories are:
Small Business: under 100 employees
Medium-Size Business: 100-199 employees
Large Business: 200 employees or more
PENN STATE LEHIGH VALLEY SCHOLARSHIP AWARD
The $1,500 Penn State Lehigh Valley Scholarship Award will be presented annually to one student in the region who demonstrates significant talent and promise in the visual, literary or performing arts and is looking to pursue a degree in Arts Administration. High school juniors and seniors are eligible for this award.
The following three awards will be selected by the ArtsQuest Foundation Board:
PINNACLE OF THE ARTS AWARD
This prestigious award is presented to an individual who has lived or currently resides in the Lehigh Valley and has achieved national or international distinction in the visual, literary or performing arts.
LIFETIME ACHIEVEMENT- Artist Award
Celebrating an artist whose work in the arts symbolizes the highest level of excellence, commitment and achievement in his/her field over a period of 20 years or more. This award is presented annually to an individual who has made significant, longtime contributions to the visual, literary or performing arts.
LIFETIME ACHIEVEMENT – Volunteer Award
Recognizing one individual who has served in a volunteer leadership role in one or more arts organizations and whose hard work, dedication and passion for the arts have led to a significant difference for the organization(s) and our community.
For more information on the ArtsQuest Foundation and the Linny Awards, please visit www.artsquestfoundation.org.