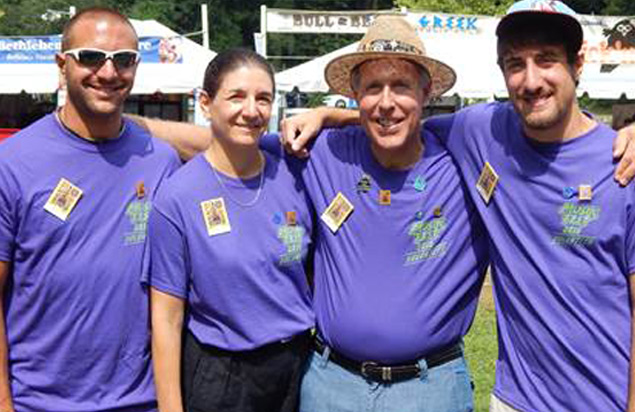 A Volunteer Love Story
The story of how ArtsQuest volunteers Tony and Judy Sabino met could not have been scripted any better. Musikfest is the backdrop for this classic romance, with typical summer rainstorms, ethnic food and of course, music, each playing a part.
It all began in 1985 when Tony first volunteered. His stint was at Americaplatz—it was next to the library then—and he really enjoyed it. He re-upped every year after that, and in 1989 met volunteer Judy Napoli there. When Tony saw her last name on her ID badge and realized she was a fellow Italian, he asked her if she'd like to have a cannoli with him at Liederplatz after their shift. She took him up on the offer.
When they finished the sweet treats, the two strolled around the festival. It suddenly began to rain, so they ducked into a tunnel near Moravian College. There they were, met by a small Celtic band, Daybreak, who was also escaping the downpour. The band played, while Tony and Judy chatted.
On the first day of Musikfest one year later, Tony popped the question just before their shift at Americaplatz began. Judy happily accepted Tony's onyx ring, in lieu of the diamond they would get later, and the newly engaged couple went on their break together. Once again, it rained. They ducked into the same tunnel near Moravian, and as unbelievable as it seems, there was Daybreak again.
"We told them our story, and they ended up playing at our wedding," says Judy.
"We had an Italian wedding with Celtic music," adds Tony.
Tony has been volunteering nonstop now for 33 years at Musikfest and also does a stint at Christkindlmarkt each December. This year was Judy's fourteenth year as a volunteer; she took "maternity leave" when their sons, Paul, now 24, and John, 22, were born, and the boys joined the family tradition of volunteering when they turned 12.
"When the kids first started, we all did the Eco Squad," recalls Tony. "Now we work mostly at Liederplatz, in the information and ticket sales booths. But we go wherever they need us."
Judy's favorite part of volunteering is introducing people to the festival.
"Many people come not knowing what it's all about, especially the first day," she says. "I enjoy explaining everything and helping them navigate the grounds. Greeting people with a smile and helping them makes all the difference."
Tony adds that volunteering is like being part of a huge family. "You only see each other once a year, but because of our shared volunteer experience, we feel a closeness to each other. You talk and catch up; it's great."
John and Paul say they enjoy the festival for many reasons. It brings people from all over the area together to relax, eat and listen to music, they say, and they often run into old friends they may not otherwise see.
"Just being a part of it for so many years is great," says John. "They have Aw Shucks Roasted Corn at the Iron Pigs games now, and when I smell it, it immediately reminds me of Musikfest. I have so many great memories."