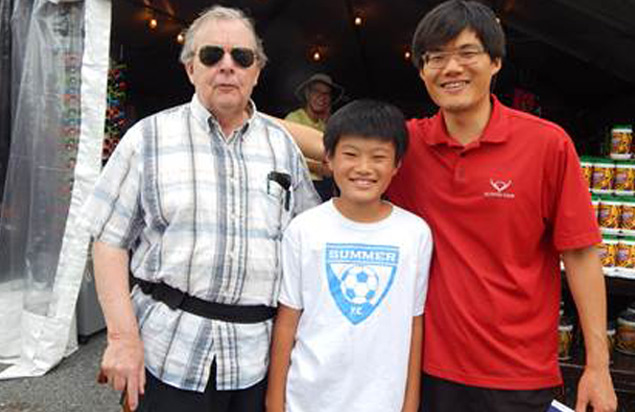 Waiting for Hannah
When obstetricians at St. Luke's Hospital told Leo Wong it would be a while before his wife, Tomoko, delivered their second baby, he headed to Muiskfest. Cell phone in hand, he strolled the North Side with his 12-year-old son, Max, and his father, Jim Humphries.
"The doctors were running tests and basically told us to get lost," Wong says with a smile. "Thank goodness for cell phones; they promised to call when things start happening. Being here is so much better than waiting in the hospital."
Wong, who works for B. Braun, recently moved to the Lehigh Valley from Los Angeles. His father hails from Victoria, British Columbia and was on hand to meet his new grandchild and help out.
As first-time festers, the trio loved everything about Musikfest. Max was enjoying the funnel cakes, and Leo and his dad were enthralled by the music. "You stroll around and hear all kinds of music at no cost. It's great, and everyone is so friendly and helpful," said Humphries. "I may just make the trip again next year."
Closing out Musikfest 2016, baby girl Hannah Wong arrived safe and sound on August 14.