Saxophonist Embarks on Unique Musical Mission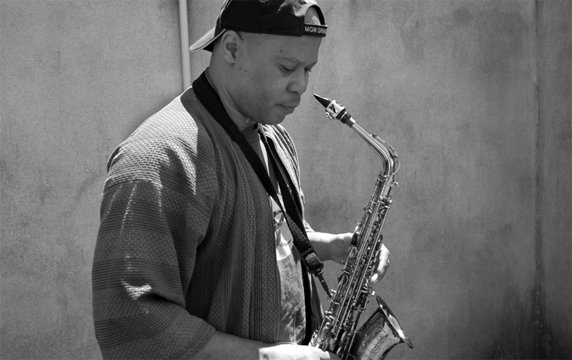 Linny Winner Steve Coleman Shares His Love of Music with Those In-need
By Merry Sue Baum
Saxophonist Steve Coleman, winner of this year's Lifetime Achievement in the Arts Linny Award, is a man with a mission. Not only does he work tirelessly to bring his unique brand of improvisational jazz to the masses, he also focuses on reaching the impoverished, many of whom would otherwise not have access to quality live music.
An Allentown resident, Coleman doesn't just put on a show or two and move on. Rather, he sets up shop in an area, whether it be a low-income neighborhood in a major U.S. city or a poor community abroad – and stays for three or four weeks for residencies. The artist first scouts out an area, rents a small house—or a loft or upper floor of a small club—and then he and his band, Five Elements, team up with local musicians and offer free concerts during their stay. It's something he's love doing since his very first residency in 1994.
"With Airbnb and the Internet, it's a lot easier than it was in the early days," he says. "In the beginning we had to depend on word of mouth. We'd put handmade posters up advertising the concerts. It seems primitive now, but it worked."
When he started his residencies, Coleman paid for the early tours out of his own pocket, using money he earned from paid gigs. He recently established a foundation, however, to help foot the bills, which can get pricy for a group traveling to West Africa, Brazil, India or Cuba, as Coleman's band has. They've also done residencies in indigent areas of Los Angeles, Detroit, Oakland, Philadelphia and the South Side of Chicago, where Coleman grew up.
"My neighborhood was rough, but I was lucky; I found music early enough to keep me occupied and out of trouble," he says. "There were musicians who mentored me, so I want to give back."
Today, Coleman does exactly that by offering free musical workshops around the country and online. He has even given a workshop for young men in a Chicago prison. For his public service in his hometown, he recently received the Rosenberg Medal from the University of Chicago.
"A teacher once told me to be good to my horn and it will take me around the world," Coleman says. "It sure has, and I am so grateful that I can bring music to others."
2017 Linny Awards
Thursday, Nov. 9 6-9 pm
Musikfest Café presented by Yuengling
ArtsQuest Center at SteelStacks
Bethlehem, PA